Meet our Staff.
Miss Melissa Raad – Director
Hi, my name is Melissa Raad. I am the Director of Children First. I have been with Children First since we opened our doors on June 1, 2008. Prior to coming to Children First I was co-owner and director of another preschool/child care center for 10 years. I have taught preschool, kindergarten and 1st, 2nd, 5th, and 7th grades. I also taught the childbirth education classes at the hospital for 6 years, which I loved.
I am married to my best friend and we have two daughters, Emily is 20 and Grace is 17. They are both intelligent, silly, loving young ladies and I love being their mom. My family is the light of my life!
Things I enjoy: being with my family, gardening, hiking, biking, photography, animals, children, music, singing on the worship team at my church, changing seasons, sleeping in late, motorcycles, boating, cooking, living in the beautiful Black Hills, reading and enjoying time spent with my friends and family.
It is an honor to work with such a fabulous group of women and to spend my days with your precious children!
Ali Besler – Administrative Assistant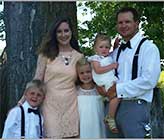 My name is Ali Besler. I have lived in the Spearfish area for the last 9 years, but I'm originally from Rapid City. I came to Spearfish to obtain my Bachelors Degree in Elementary Education, Minor in Early Childhood Education, and Endorsement in Kindergarten. I graduated in May of 2011 from BHSU.
I am married to my best friend, Josh and together we have three children. Addison (9) is my step-daughter and just started fourth grade. She is very creative and a big help around our home. Treydon (7) is my step-son and will be in second grade this year. He has a great sense of humor and is the best brother a sister could ask for. Vivian (3) is our little firecracker and keeps us on our toes!
I am starting my sixth year here at Children First and will be a part-time administrative assistant in the office on Mondays and Wednesdays. When I am not working I love to run, shop, and spend time with my family.
Sarah Hazledine – Childcare Supervisor/4 & 5 year Old Preschool Teacher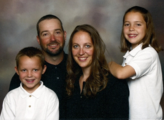 My name is Sarah Hazledine and I am the 4 and 5 year old preschool teacher in the Butterfly Room. I am also the Childcare Supervisor here at Children First. I have been working at Children First for 9 years and I have loved every minute of it. I am married to Shane and we have two children Baylee (14) and Preston (11). They keep us very busy with dance and soccer. When I am not at Children First I enjoy archery, camping, reading and spending time with my family in the beautiful Black Hills. I am looking forward to another fun school year at Children First.
Becky Hiermeier – 3 Year Old Preschool Teacher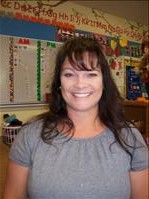 My name is Becky Hiermeier. I am the 3 year old preschool teacher. I have been in the child care and preschool field for a total of 18 years and love the joy and fulfillment it brings me. I received my Child Development Credential in Early Childhood Education in 1996. I have worked as a preschool teacher in Montana, Arizona, and South Dakota which I consider home. I have been with Children First for 9 years, this being my eighth year as a preschool teacher. I enjoy coming to work each day to nurture, guide and teach young children. I truly feel this is my calling and feel blessed to have the opportunity to do so. I am married to my high school sweetheart Mel. We have four children, Rachel, Jessica, Elisabeth, Josef and a grandson Jesse. When I am not working I'm busy running to numerous sporting events. I enjoy being outside working in the yard or enjoying the beautiful surrounding of Spearfish. I look forward to a fun and enriching school year!
Emily Culver – Lead Toddler Teacher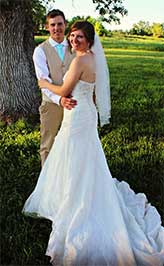 Hello, my name is Emily Culver and I am the head teacher of the toddler room. I have been working at Children First since May of 2013 shortly after I graduated from high school, and I have completely fallen in love with this job. I enjoy spending time with the kids and watching them grow and blossom throughout the school year.
I grew up on small ranch just a few miles out of Spearfish and have lived there my whole life. I love Spearfish and the amazing surroundings we are blessed with here.
Last summer I married my high school sweetheart and best friend. When I am not here at work I spend most of my free time doing adventurous things with my husband and family. Most of the time I love camping and taking in the outdoors. I also enjoy watching and playing soccer. I am thrilled to be working with your children this year, and look forward to seeing them learn and grow!