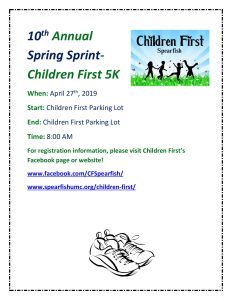 It's that time of year again! Our 10th Annual Spring Sprint fundraiser is coming up in a little over a month. This will be bittersweet for us because we are retiring this fundraiser after this year. It's been 10 wonderful years, but we want to go out with a BANG!
Spring Sprint – Children First 5K is a 5k run/walk that can be done individually or with the whole family. Children First promotes outdoor activity for our youth and we are incorporating Earth Day. Please find the attachment for recycling ideas by one of our teachers, Miss Brianna. We invite you, your family and friends to join us on April 27, 2019 at 8:00 am in the Children First Parking Lot for a loop route through Lions Park, Brady Park, City Park and back.
          For registration information, please visit Children First's Facebook page or website!
If you have any questions please contact:
Children First (605)642-1191or childrenfirst@speartown.com
---
10th Annual Spring Sprint-Children First 5K Sponsorship
 Sponsoring Spring Sprint-Children First 5k will provide great advertisement for your business, but also support early childhood education. Your company name, family name or child's name will appear on the race T-shirts and race day signs.
$100 Sponsor: 2 free registrations, 2 T-shirts & 2 water bottles

$75 Sponsor: 1 free registration, 1 T-shirt & 1 water bottle

$50 Sponsor: 1 free registration
All of the sponsorship forms will need to be in by April 8th, 2019.  Pre-registration for the event is also due April 8th, 2019. Money raised will go towards educational programs at Children First.
Please return this form by April 8, 2019 Ali Besler via EMAIL if you have any questions please contact:

Children First (605)642-1191
Thank You!
---