General Information:
Schedule:
• Open Monday-Friday from 7:00AM-5:30PM
• 5 days/week, 3 days/week or 2 days/week preschool and childcare options
• Full day or ½ day options
Discount:
• Each family is eligible to receive 10% off for each additional child attending Children First.
Toilet Training:
• Toilet training is required for entering our 3-year-old preschool room or higher.
Food:
• Please send a healthy packed lunch for your child if they attend Children First during lunch time.
---
Our School Calendar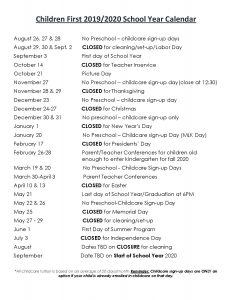 Click on image to make it larger
---
Information you can download
Click
HERE to see a list of our programs. Please call for pricing information.
Click
HERE to download a Medication Authorization Form.
Click
HERE to download a List of Community Resources.