Upcoming Special Events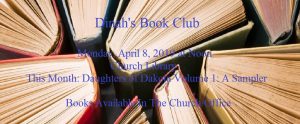 The Book Club will meet Monday, April 8, at NOON in the UMC Parlor.  They will be discussing Daughters of Dakota Volume 1: A Sampler edited by Sally Roesch Wagner.  The Books may be picked up in the church office.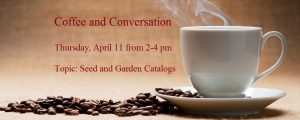 Come and have a cup of coffee and join in the conversation on Thursday, April 11, from 2-4:00pm.  This group meets the second Thursday of each month in the Fellowship Hall.  Because of the snow last month, the theme for April will be the same as March. So bring your seed and garden catalogs because spring is here!  Everyone is welcome and please bring your friends!

Taize Worship is a powerful, quiet worship styles that centers on singing, prayer, and silence in the quietness of the night.  The Maundy Thursday April 18th Worship will include a message from Pastor Scott and communion.

Donations of clean, useful items are welcome April 8-12 for the sale on Saturday, April 13 from 8 to noon. All proceeds are for youth summer missions and camps.

Come join us for some great fun and fellowship on Sunday, April 14, 2019 from 5-7 PM! We will start with some nachos and a couple sides! Then we will spend the rest of the time talking and playing board and card games! You are more than welcome to come empty-handed, or to bring games or food to share! The only thing we need to make this an absolute success is YOU! If you have questions contact Kevin Nakajima at (605) 559-0382 or kevinmasanaka@gmail.com.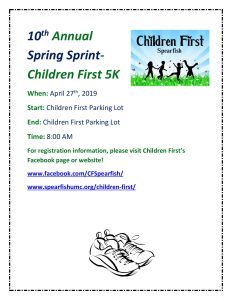 It's that time of year again! Our 10th Annual Spring Sprint fundraiser is coming up in a little over a month. This will be bittersweet for us because we are retiring this fundraiser after this year. It's been 10 wonderful years, but we want to go out with a BANG!
Spring Sprint – Children First 5K is a 5k run/walk that can be done individually or with the whole family. Children First promotes outdoor activity for our youth and we are incorporating Earth Day. Please find the attachment for recycling ideas by one of our teachers, Miss Brianna. We invite you, your family and friends to join us on April 27, 2019 at 8:00 am in the Children First Parking Lot for a loop route through Lions Park, Brady Park, City Park and back.
For registration information, please visit Children First's Facebook page or website!
If you have any questions please contact:
Children First (605)642-1191 or childrenfirst@speartown.com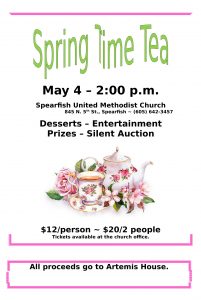 Saturday, May 4, 2019 at 2 PM there will be a Tea in our fellowship hall of Spearfish United Methodist Church. We are currently looking for people to set a table with their dishware. Call Janelle Jones 722-5911 if you are interested.  We are also looking for bakers and helpers for the event. Call Dyan Nagel 578-0021 if you could help.  Mark your calendar and line up a friend to bring for a
delightful afternoon of yummy desserts and entertainment. Ticket sales will begin soon. All proceeds will go to benefit our local women's shelter, Artemis House.