We strive to share the blessings God has given us with those in need locally and around the world.
This principal is based upon 2 Corinthians 9:8 "And God is able to provide you with every blessing in abundance, so that…you may share abundantly in every good work".
Food Pantry needs for November
– Chex Cereals
– 2 lb. Bag of Sugar
– Chunky Soups
– Mashed Potatoes
– Cheerios
– Spaghetti Sauce
– Apple Juice
– Peanut Butter – Chunky

MONTHLY MISSION PROJECTS-2017
Bishop Ough's Thanksgiving Appeal – Nov. 18 & 19
Our neighbors in Florida, Texas, Puerto Rico and beyond are crying out. We see it on our televisions, on the internet and on social media. The Lord hears their cries and is calling us to serve as His hands and feet to deliver them from their troubles. As United Methodists, let us stand together in prayer and support of all of those who have been affected by the horrific storms. It is our turn to respond to God's call to help our neighbor. I urge all people in the Dakotas to continue your prayers for the people in Texas, Florida, Puerto Rico, for those who have been affected by damaging hurricanes and flooding, and for those responders who are coming to their aid. In addition to prayer, God calls us to action. We will dedicate our annual Dakotas Conference Thanksgiving Offering to United Methodist Committee on Relief (UMCOR) recovery efforts. May we respond freely to the Lord with gratitude and humbleness born of a giving God. An offering will be done on the weekend of Nov. 18 & 19.
July Mission of the Month – Solar Oven Partners
– Our "one special mission" this month is Solar Oven Partners, a United Methodist mission based in the Dakotas. Solar Oven Partners has now placed well over 10,000 ovens in its history. Solar oven components are produced by volunteers in our 3 workshop sites in the Dakotas. Currently we are distributing ovens in poverty areas in the Dominican Republic and Sierra Leone, and an exploratory team will be working on a Navajo reservation in July to see if a partnership can be developed there.
– In many areas cooking fuel can cost up to ½ of a family's income. Solar cooking can provide free cooking from the sun's energy as well as providing safe drinking water and preventing deforestation from cutting trees for fuel.
Deforestation in many developing countries is of epic proportions. Until the demand for charcoal—used as cooking fuel and made from trees—is eased, deforestation will continue to take a tragic toll. Solar cooking is a practical and caring solution. Experience has demonstrated that teaching solar cooking is the basis for success—rather than simply delivering solar ovens.
– Spearfish UMC will be sending 5 volunteers in July to the Dominican Republic to work with our Dominican partners to train and place ovens in extreme poverty areas near the Haitian border. They are Gloria & Ron Borgman, Zona Hairgrove, Chris Davis, and Pastor Scott. We look forward to telling you more as July progresses.
Here's how YOU can be involved:
– Through your monetary gifts, ovens can be assembled and sent with teams that will teach people how to solar-cook.
– Potholders are needed to send with the ovens. If you would like to sew some, please contact Gloria Borgman at 642-3521 for the pattern.
– Pray for the team that will be going to the Dominican Republic July 22-Aug. 30.
If anyone is willing to do His will, he will know. John 7:17
CAMP MINISTRY SCHOLARSHIPS – April
– Approximately 40 people, including both children & adults, attend camp each summer. The church pays as much of the camp registration fees as possible for each camper to enable as many as possible to experience this faith growing opportunity. Click here to learn more.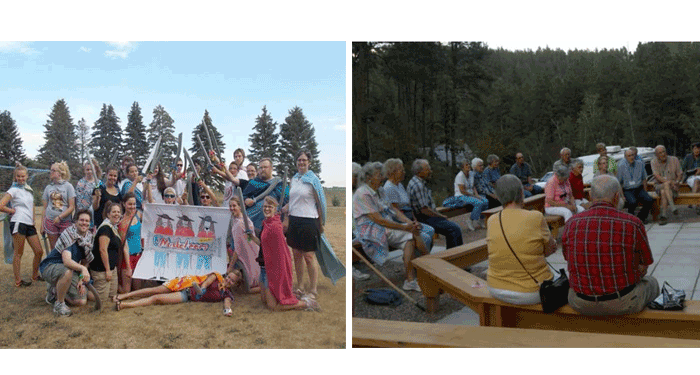 LaGonave Alive – May
– LaGonave Alive is a nonprofit organized to serve God and bring hope, health, and happiness to the people on the island of LaGonave, Haiti. It focuses on the areas of education, health care, and ministering to those in need, especially women, children, and the elderly. It was founded in 2013 by Bruce & Sharon Blumer of the Dakotas Conference. Since its inception, LaGonave Alive has given scholarships to students of elementary age through university, given school supplies to 2,000 children, opened a health clinic, provided meal packets for hungry families, distributed Christmas gifts to 1,200 children, and will soon begin building a new school.
– Please give generously all through the month of May, so we can further God's work in Haiti.
Discerning God's Call
If anyone is willing to do His will, he will know. John 7:17
SPEARFISH FOOD PANTRY – June
– Last year's Spearfish Food Pantry donation drive was so successful we are going to try it again! This year we have set our goal at sinking 2 canoes, or 1600#. We did 1 ½ canoes last year so just 1 or 2 more items per person and we should be able to do it!
– In 2015 the food pantry served 688 different families throughout the year, averaging 261 families per month. For the first 4 months of 2016, we averaged 274 families per month. The numbers keep increasing so our need for donations keeps growing as well. We serve many senior citizens on fixed incomes, families of those currently unemployed, college students and low wage earners with children to support. We have grandparents who are raising grandchildren and many one parent families. THE NEED IS GREAT.
Last year we spent over $30,000 on groceries from our local stores. Safeway & Lueders are very supportive by giving us discounted prices on our purchases. Thus we are able to buy more food with donated money than individuals can.( Also only monetary donations to a nonprofit organization, not food items, can be deducted on federal income tax forms.) For the purpose of our "canoe sinking" I will equate dollars given to pounds of food according to the pantry's actual costs which will increase the poundage total due to our discounts.
– If you prefer to give actual food items, some items we can always use include: Apple Juice, Applesauce, Saltine Crackers, Canned Peaches, Pears & Pineapple, non-sugared cereals, dry milk (envelopes), noodles, peanut butter and tuna. Start shopping sales now!
– In January 2016, 30 new families registered at the pantry so the number keeps growing. Anyone with a Spearfish or St. Onge address in need of assistance can receive food once a month from the pantry. 12 local churches staff and manage the pantry which is open from 9 a.m. to noon Monday, Wednesday & Friday except for holidays and the last 2 weeks of December. The pantry is located at 131 Yankee St. in the back right hand corner of the city Recreation Center & Swimming Pool. Click here to learn more.
SOLAR OVEN PARTNERS – July
– The purpose of this mission is to provide solar ovens and usage seminars to the women of Haiti, the poorest nation in the Western Hemisphere. This use of solar energy not only cuts fuel costs for each family , but also reduces the number of trees cut for this use.  Click here to learn more.
CHILDREN FIRST SCHOLARSHIPS – September
– Children First is an outreach ministry of the Spearfish United Methodist Church that provides a secure and loving environment for all children, promotes total learning through all the senses, and supports the individualized development of every child. Scholarships are given to enable needy families to access the services provided so that every child may have the opportunity for growth and enrichment. Click here to learn more.
HOPE CENTER, RAPID CITY – October
– The HOPE Center was established in 2010 as an outreach project of First United Methodist Church in downtown Rapid City, South Dakota. Initial planning for the project was driven by an expressed need of those living in poverty and/or without homes, neighborhood churches and businesses, and other non-profit agencies to have a day center in Rapid City that would be able to provide basic day services in the downtown area. Click here to learn more about the Hope Center.
BISHOP'S THANKSGIVING OFFERING – November
– (to be announced) Check back later for more details.
CORNERSTONE RESCUE MISSION – December
– The Cornerstone Rescue Mission strives to provide programs that will help each individual become more self-sufficient. For less than $25 a day each individual is provided with 3 meals, clothing, shelter, case management, transportation to and from jobs, provision for personal needs items and Biblical counseling. Click here to learn more.