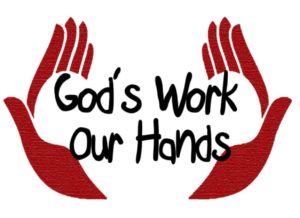 On September 30, we will be having our Fifth Sunday Fellowship. As always when we have a fifth Sunday of the month, we will be gathering all three congregations — Blue Jeans, Gathering and Sanctuary — together for one worship service. This time we will be meeting on Sunday morning at 10:30 a.m. for the Sanctuary Service. After the service will be a potluck dinner together. (Make sure you bring enough food for your family plus one other!)
Starting a 8 a.m. the coffee will be on and we will be gin with some of our service projects. We will also have those service projects after the potluck dinner. projects could include painting, gardening, weeding, cleaning, handyman jobs, carpentry. There will be something for everyone to take part in.
If you already have your T-shirt from the last service day, remember to wear it. If you don't have one, you can purchase one for $10. Just contact the church office to purchase one, or reserve one. 
For more information about how you can serve other in our church and community on that Sunday, or any other time, contact the church office by EMAIL or phone (605) 642-3457.