GPS for the week of July 3rd
, 2022
"Pastor John Madvig"
Using your phone?  Try a new app: www.bible.com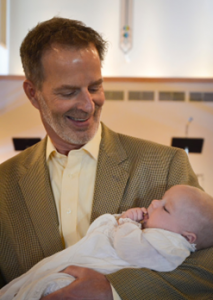 No GPS for the week of July 3rd, 2022.  Here is some information about incoming Pastor John Madvig.
Education
Bachelor of Science in Business Administration, 1988. Western New England College, Springfield, MA.
Master of Divinity, 2001. North Park Theological Seminary, Chicago, IL.
Ministry Experience
Interim Youth Pastor, Kalamazoo Covenant Church, Kalamazoo, MI (1993-94).
Youth Pastor, Hilmar Covenant Church, Hilmar, CA (1994-98)
Senior Pastor, Saranac Community Church, Saranac, MI (2001-10)
Senior Pastor, Community Covenant Church, Omaha, NE (2010-2019)
Transitional Interim Pastor, Evangelical Covenant Church, Springfield, MA (2020-21)
Interim Pastor, United Methodist Church, Madison, SD (2021-22)
Continuing Education and Training
The Art of Transitional Ministry, Princeton Seminary, 2019.
Evangelism Cohort, ECC Make & Deepen Disciples, 2017-18.
Pastoral Study Grant, Louisville Institute, 2015-16.
The Writing Pastor Workshop, Collegeville Institute, 2015.
Re-Thinking Evangelism, Luther Seminary, 2013.
Pastoral Care Cohort, ECC SPE Initiative, 2011.
Sabbatical, Louisville Institute, 2009.
Leadership Cohort, ECC SPE Initiative, 2008.
Renewing the Historic Church, Biblical Witness Fellowship, 2006.
Call to Ministry
I grew up in a strong Christian home and received Christ at an early age. While serving as a youth pastor, I began to recognize a lifelong call to ministry. My wife, family, friends and colleagues confirmed my call, as did the churches I served. It has been a privilege to be present with and for people as a minister and representative of the gospel in times of joy and in times of sorrow, helping people to see Jesus Christ in their lives through birth, new birth, life, death, and the hope of resurrection. Most recently, I felt called to serve as a transitional pastor. In this role, I help churches move into a new chapter while embracing their history, mission, community, and leadership. Change happens—let's respond together.
Passion for Ministry
Christ has been there for me from the beginning. My upbringing rooted me in faith; my decision to follow wholeheartedly has resulted in growth and is now bearing fruit in my life, my family, and ministry. Faith has empowered me to face life's joys and hardships with the certainty that Christ is, and will be, sufficient in all circumstances. Evie shares a similar background, which makes our journey together that much more enjoyable and edifying. We are able to encourage and challenge one another while standing on the common ground of faith. This shared experience fuels my passion, which is to invite and assist others to join and participate in the life of Christian faith. I want to help others recognize two important and eternal truths: 1) God loves us unconditionally, and 2) our lives and our world can be dramatically improved when we enter and join the life of the kingdom of God.
Vision of the Church
The Church is not simply a fellowship of like-minded people; it is a place where visitors belong, and where members believe and are baptized. The Church is the place where we are reminded of who we truly are. The Apostle Paul wrote a letter to a cantankerous, divided gathering of borderline believers in the raucous city of Corinth. His tone was stern, and his love for them was unwavering. After several corrections to their theology and practice, Paul had the audacity to declare: "Now you are the body of Christ, and each one of you is a part of it." As we sing, "Mid toil and tribulation, and tumult of our war," the Church remains the body of Christ, faithfully serving and suffering as a body taken, blessed, broken, and given to a hungry and hurting world of people who also need to be reminded of who they are, and of the God who delights in them—and us—as God's beloved children.
Service and Community Involvement
For over 20 years, I have served as a volunteer coach, primarily in high school football programs where I have provided character development for young men. Along the way, I've picked up a significant amount of football knowledge. Over the past several years, I have served as a PRN chaplain in the CHI Health System. I especially enjoyed working with the trauma team. As a musician, I've played guitar with an elementary school singing group, and with a wedding/event band that has joined in accompanying the kids.
Leadership Style
The pastoral leader serves Christ and the Church wisely by knowing both well, and by leading in ways that do violence to neither. Church leaders wrestle continually with three key questions: 1) Who are we? 2) What is God calling us to do and be at this time? and 3) Who is our neighbor? Leaders bring and use their unique gifts in ways that stretch, supplement, and complement one another as the whole body grows toward maturity (Eph. 4:11-16). I invest heavily in equipping and empowering leaders to lead the church. I work to help develop and nurture leaders that are non-anxious, lovingly assertive, and relational, while seeking the guidance of the Holy Spirit in the process of discernment. In these times of accelerating change, we can lead the church into an uncertain, sometimes even unfamiliar future because we commit to doing so together.
Theological Perspective
The Bible is the source and the script for life, relationships, and purpose. It is the shared text of Christians, from which we discern and defend what we believe and practice. It is the guidebook for ministry and proclamation in the church. From this text we learn that we are born first as children of Adam and born again as beloved children of God, co-heirs with Christ. As children in God's one family, we form Christ's body, the Church. The Spirit helps us to understand the Scriptures, empowering us to live out of our new identity in Christ. Part of this new identity is the freedom we experience. This is freedom from sin, but not freedom expressed in licentiousness. It is freedom from deaf-mute dogmatism, and releases us to "unity in essentials, liberty in nonessentials, and in all things, charity." The Church is a place with a common script, a shared and lively existence, a grand mission, and an able Guide; it is full of vibrant conversation in which discussion and disagreement can coexist without causing division.
Spiritual Disciplines and Study
Each morning, I spend time listening to the daily lectionary, followed by reading a reflection associated with those texts, and then a time of prayer. This past Lenten season, I practiced fasting in some small ways. I enjoy teaching on books of the Bible, which includes reading commentaries. My studies alternate between books on leadership, change, church dynamics, and an occasional novel. As a transitional pastor, I spend a significant amount of time studying the congregation I am serving, seeking ways to help them become healthier and more missional.
Family
Evie and I were married in October, 1993. Evie has a fully remote position with Creighton University, where she has worked for over a decade. We have two children. Our daughter Sarah graduated from Creighton and will be entering an accelerated nursing program there this fall. Until then, she will be serving as a CNA in an assisted living facility. Our son Nathan is moving to Chicago, where he studied at Loyola University. He enjoys the city and looks forward to living and working there. We will look forward to their visits!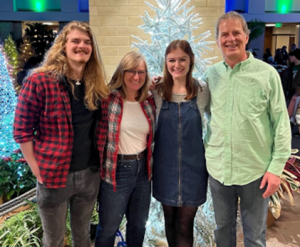 What I Like to Do for Fun
Evie and I enjoy traveling, hiking, and exploring new places. We're thinking of getting a small camper so we can really enjoy the Black Hills! When I'm outside, I enjoy golf, a leisurely bike ride and/or water activities. Indoors, I am an avid board game player. Most people look at my collection and say, "I've never heard of any of these games", but I enjoy teaching and helping other players. I'm also a musician and would like to find some opportunities to play.
Gifts for the Ministry
My primary gift is wisdom. I love to learn, to observe, to understand, and to teach. This applies first to the Bible, which I've loved to read since I was a young boy. I am usually working my way through several books on a wide range of topics, often related to the church and pastoral ministry. For this reason, I can be a good resource for church leadership. I prefer to use a Socratic method of teaching, using questions to help persons to find the truth, and I place more priority on questions than on following a strict outline. It comes as no surprise then, that my method of evangelism, also a primary gift, is more relational and flexible than it is a strict adherence to "Four Spiritual Laws". My appreciation for aesthetics and the arts is evident when planning the environments and elements of worship. I also enjoy serving as a facilitator in prayer ministry for emotional healing.