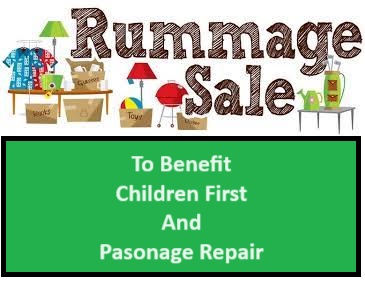 It's time to gather up your unwanted items for a rummage sale! On Friday, Sept. 29 (9-5:00 PM) & Saturday, Sept. 30 (8-1:00 PM) our church and Children First will have a combined sale. Cinnamon Rolls will also be for sale. The proceeds will be split in half to benefit the parsonage repairs and Children First scholarships.
We will be collecting gently used items including household items and children's items. We will NOT be selling adult clothing or electronics such as TV's or computers.
Donations may be brought to the church starting on Monday, Sept. 25 through Thursday, Sept. 28. For information contact Jeanette Keck (605) 390-3068.